Relaxation

The end of every yoga session should involve a period of relaxation. The classic pose for this is SHAVASANA or the Corpse Pose.  It is healing and protects against the side effects of the prior exercises.  Cover your legs with a blanket. More adventurous Yogis can try the delightful YOGA NIDRA or Yogic Sleep. CDs such as Drops of Nectar by Shiva Rea (2003) or Yoga Nidra Meditation by Swami Jnaneshvara Bharati (2003) will painlessly take you through this deeply restful and healing process. Wonderful if you are recovering from illness, anxiety or over-work.

YOGA is science, not religion. It works with the grain of nature. It fits your body, not the reverse. Who could quarrel with this great blessing? There are more styles and teachers than dishes on a menu; pick what is right for you. Are you more hungry for spiritual knowledge or improved physical fitness?  You decide-- but the real deal offers both. It's about

40 years since I took my first lessons from an Indian woman living in Bradford. She was very amused that we "European schoolboys" were interested!

Responsibility

Has your teacher been properly trained? There are schools all over the world and we cannot review them all. The best known standards in the UK are those applied by the British Wheel of Yoga. You can visit their website for more information. Don't choose a turkey!  Warning signs: you are told to use belts and blocks although a beginner; no rest pose at the end; no knowledge of broader subject matter.

Meditation

If your teacher never mentions this basic practice, it means you are in a physical jerks class, not a yoga class!  (Not that I would call anyone a jerk, physical or otherwise.)  Meditation is a progressive daily practice that brings tranquillity and insight in abundance, in proportion to effort.  Sorry - but that means your effort, not mine!  The work is joy, however.

How can you start? Close your eyes and mouth and sit comfortably.

Breathe in through your nose, observing the soft and silky feel of the

breath. Then remember to breathe out!  Just keep noticing the breath

and let go of everything else. Difficult? Then practice Yoga Nidra (see

above). You can and will get there!

Every spiritual path has its ways of making an interior journey; the

regular practice of meditation is not an escape but a taste of a deeper reality. 

Schools of Yoga

Suitable for young and energetic people is the SIVANANDA YOGA CENTRE based in Putney, South London and worldwide. Those seeking a gentler, more breath focussed, approach might appreciate the classes of YOGI DR MALIK.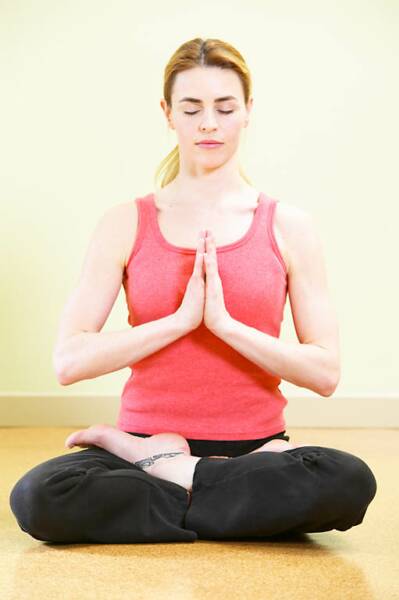 Latest Yoga News

Sky Digital Channel 288 presents "Body in Balance" channel, which has yoga programmes on it. Also try Channel 282, "Diva TV".

"Namaste" is a yoga greeting: "I honour that place in you where divinity resides". It implies that when you are in that place and I am in that place also, there is only one of us.That's why it's generally polite to respond, "Namaste." too. It's pronounced NAM-ASS-TAY.

For an appreciation of the late teacher  and spiritual leader, Maharishi Mahesh Yogi, click this link